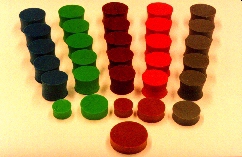 The original, often-imitated, (but never surpassed) high compliant isolation and damping feet for
Hi-Fi, AV (Home Cinema) and Centre-Channel Loudspeakers and CD/DVD/SACD players
(and any other equipment that needs to be isolated from vibration).

Accept NO SUBSTITUTE !! Do not be swayed by closed cell materials claiming to work better !!

Background stuff:
Read an extensive description of the technology behind their design and use.

How to weigh your speakers (for Loudspeaker Damping Feet).

Product reviews:
Read the unbiased review by TNT-Audio

Read some Scandinavian customer feedback: in English or in Swedish

Or check some Swedish end-user comments


Other information:
UK Retail Price List - click here

UK Trade enquiries welcome - click here

Places you can buy Sonic Design products


Visit Sonic Design HB Home page

Sonic Design is a registered trade mark.
Sonic Design products are made in Sweden.